Fort Worth SEO Services is a child company of Brag Interactive, Inc. that is run and managed by myself, Brad Williams.
The road to Fort Worth SEO Services
While I was a freshman at TCU, I was intrigued by websites and how they gained and monetized their traffic sources. I wanted to learn and know how website owners could make a living from online properties. To do this, I did a bit(not enough) research and purchased an "established" website on the fly. With this website I was hoping to generate a nice source of passive income, boy was I wrong..
An established website is well.. suppose to be established and already have a stream of revenue and traffic. Little did I know(at the time), people could fake both traffic and revenue numbers online pretty easily. As you probably already guessed, this is exactly what happened to me.
As soon as my money was transferred to the seller, he literally turned off the traffic. Turns out, he was purchasing traffic to make it look like the website had a good source of monthly traffic. This was before I knew anything about Google Analytics and the huge number of other online resources.
What I was left with was pretty much a domain name, a newly opened hosting account, and a mediocre website with zero traffic and revenue.
To say the least, I was pretty pissed. I didn't spend a fortune on the website, but being a new college student, I was broke!
Instead of just giving up, I was determined to make it work. I spent countless nights and weekends researching how to drive traffic to websites. Again, I was a college student so spending money to buy traffic wasn't even an option.
Without any funds and just determination, I learned how to drive organic traffic to my website. For those that may not be as technical, organic traffic is website traffic that comes to your website as a result of unpaid search results.
This is usually from organic search results by getting your website listed in search engines result pages. In a nutshell, I was learning SEO (search engine optimization).
By the time I graduated college, I had my website ranked in all the major search engines for terms that were searched thousands of times a month. The website was receiving anywhere from 8k-20K visitors a DAY without any paid traffic.
Here is a screenshot of the Google Analytics account: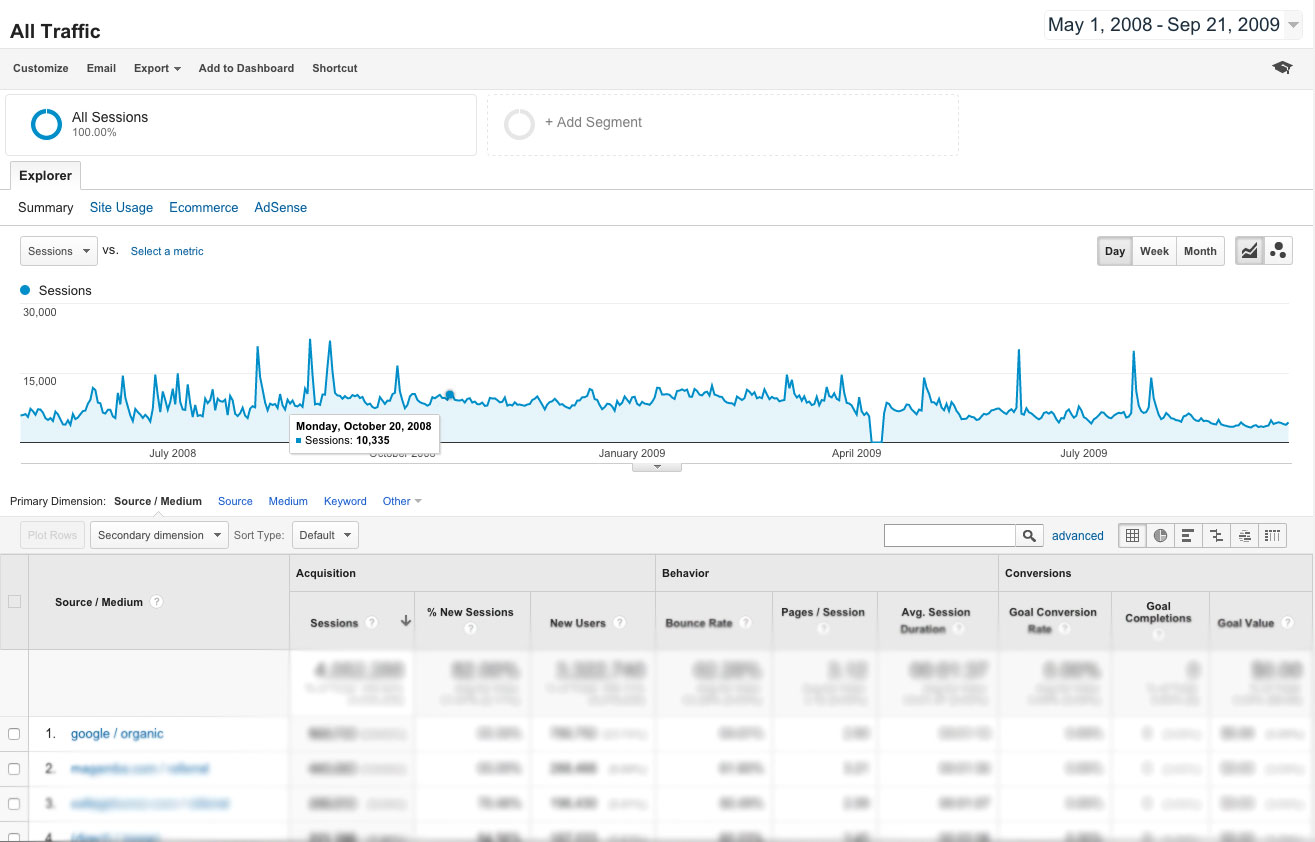 As you can see Google was the #1 source of traffic!
I didn't really have any plans to go into the workforce after college, but a family friend was working for a local advertising agency and asked me to talk to her CEO about what I was doing.
I met with him at a local Starbucks one night and he offered me a job as one of the first employees of the web development branch of his agency.  At this point, I wasn't a web developer I was more of a digital marketer. I was really good at driving traffic, promoting websites, and converting traffic into business leads.
Since the web development branch was pretty new, my skill set wasn't really needed 100% of the time. The agency was really good at getting new web development projects, so I had to pick up some new skills.
While I was at the agency, I started learning different web development technologies. This really paired up nicely with the digital marketing knowledge I mastered in college. Not only could I drive organic traffic to websites, but I could also build websites from scratch.
Using this knowledge to build your business!
Moving to today, I have several online properties that generate revenue from online traffic. I have always had an interest in helping local Fort Worth business owners gain new customers with their online presence. This is why FortWorthSEOServices.com was created!
My strategy is to not only get your business website ranked on the first page of the search engines, but to dominate the first page of the search engines with lead generation websites, social profiles, and several other pages so your business get the most leads as possible.
Because of this, Fort Worth SEO Services is the leading SEO company in the Dallas-Fort Worth area! To discuss your current online presence and start driving new customers to your website, contact me today.